Introduction
Hey guys! It is your friendly neighborhood helpful person here, Viridian. I decided I'd make another guide; but this time, focusing on two things -- clearing up issues and misunderstandings that newer people are experiencing and how to become a great scripter! I'll be trying to make this guide as informative and helpful as possible so that a lot of you can benefit from it. =)
Part 1 - The Basics
Since many new people are joining Gaming on Steroids, I've decided to throw together a quick guide for the curious on how to easily install scripts on their Loader. Considering that a large majority of people can easily download the Loader, I'll leave that part out.
First of all, you should obviously log into your Loader to access your account. From there, you should be greeted with this screen: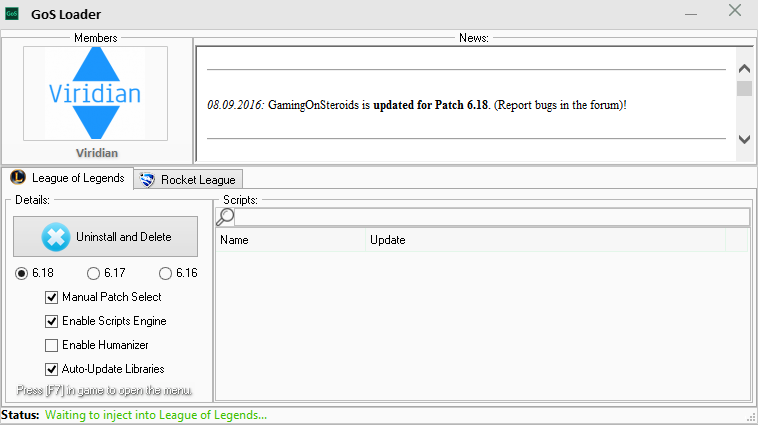 As you are able to see, there is a "Scripts" tab. That's where most of the stuff will be happening. In order to install scripts onto your Loader, you will need to get the raw GitHub link from the developer's directory. You will need to right-click the white space and click this button:
After that, you will have to paste the raw GitHub link. If you're still wondering how to get this 'raw GitHub link' I'm talking about:
Proceed to click on the "GitHub" button that is present on all the scripts present in the Script Database. Keep in mind that some links do NOT take you to the GitHub, but give an error! This can be resolved by searching the developer's name and "GitHub" behind their name in Google.
A small note: You do not necessarily have to do this with all scripts. Some scripts install right away just by clicking the handy-dandy "Install" button, but I noticed that quite a few of them do not work! So this is the second-easiest way to do it, should the regular installation process go sour.
Part 2 - Searching the right script for YOU!
I'm not gonna dwell on this part for too long, but say you've managed to get your Loader working and learned how to install some scripts. And now you wonder; what script should I use? At the moment, there's a wide variety of scripts available for your choosing with a few clicks of your mouse. It's simple! Although the choice between a wide variety of scripts might be a bit more challenging for you.
I would recommend you to head over to the Script Database and proceed to go to the "Orbwalker" and "Evade" tabs. There, you will find two of your most essential scripts; an orbwalker and an evasion script. Should you not want one of those, that's fine -- you can skip those if you so please. There is a built-in Orbwalker chooser when you enter a game, so you might not need to install an Orbwalker yourself!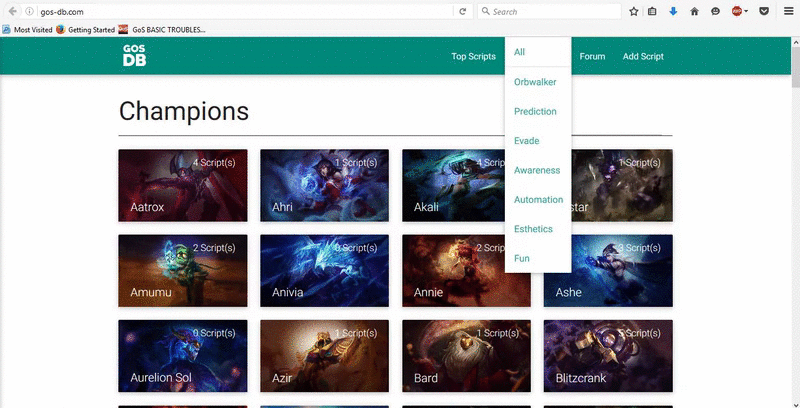 Click on either of those two in whichever order you please and download the top-rated scripts. (They're the best at the moment! In my opinion, atleast.) Either by the GitHub method or the regular Install button, if that works for you. You might also want to check out the Awareness and Automation tab.
After that, you have the liberty to search a script for a champion of your choosing! Quite a lot of champions have a script, but there are a few which do not have one made for them yet; however, some champion scripts might be in a developer's GitHub but NOT on the Script Database. So, if you're wanting to get a script for a champion that doesn't seem to have one, start searching! You might get lucky.
Now that you're all set up with champion scripts and utility, it's time to get going into a few custom games to check out if they are really working. By pressing your left Shift key, you open your script menu; the hub for all your scripts. You will want to edit some stuff here if you're not pleased with your current experience. For example -- your orbwalker might have a humanizer activated or too much movement delay. You can easily edit it by just pressing left Shift and going to your Orbwalker to edit the values!
That's the rundown for installing and editing your scripts. Now, onwards to the next part.
Part 3 - SBTW?
A crucial thing to keep in mind is to NOT rely on your script. the last thing you want to do is to rely on your spacebar key and go in, just to be faced with a massive amount of crowd-control and die alone, followed by your team flaming you. How to prevent this is pretty easy!
It all relies on YOU. You need to take action when you see fit and not let your script do everything for you. See it as a very handy assistant; even if you can easily wreck face by just pressing spacebar, many things can go wrong which can result in a missed kill or death.
Awareness is important. While there are awareness scripts that can enhance your gameplay to notify you on things like ward placements and such, it does not mean that you have it all under control. You should regularly ward and keep an eye out; this is a given for ANY player in League of Legends, and a script can't just predict whenever someone is gonna jump out of that bush and kill you.
So here's a quick run-down of what I said -- do not let your script do all the work and make sure to make your own decisions and plays. Your spacebar is not a key to instant victory! Make sure that you always keep an eye out on the mini-map and other lanes. It's important.
This was a quick little piece of advice I wanted to share with all you fellow fanatics! I hope you will make some use out of this.
Common Misunderstandings and Mistakes
For the newer users out here -- this will be the part of the thread where you should keep your eyes peeled. I'll be explaining a few of your misunderstandings and mistakes that you might make (or have already made) during your stay at Gaming on Steroids. I'm not trying to ridicule you out there who have made them! This is just a simple way to help you all.
Don't ask for help in the shoutbox.
Well, it's not exactly forbidden by any means, but begging for help when the issue can be easily resolved by looking at a few threads in the Support section is a bit dumb. No offense, though.
A very helpful thread made by a Developer called Zwei made this informative thread which will help you with (most) of your issues. It can be found in this section with the name "GoS BASIC TROUBLESHOOTING GUIDE". If your quick ask on the shoutbox didn't get an answer, you know where to head next time.

If your issue can't be resolved via the support threads, join the live support Discord.
If you're ever encountering more issues and can't fix it just by making a thread and receiving a fix from a Support. You can always join the live Discord channel. There are Supports that are willing to help you by text or voice.
Give developers feedback!
Developers appreciate constructive feedback a lot, so don't just post things like "bad script" on their thread. Of course, if no one were to give feedback on their scripts, there would be no motivation to improve them which would mean no scripts. Don't forget to leave an up- or downvote depending on how their script plays. But, before you do so, give constructive feedback!
Final - Conclusion
This is my goodbye to you all who have managed to read through all the walls of text. I've put some images and gifs in for you all so that it would be a bit less boring! I put about an hour into it and I must say I'm pretty happy with how it turned out. Obviously, I do hope it helped you all with some issues!
Of course, you can send me a PM if you need any help -- because I'm here to do so; help! I'm always up for a chat, too.
P.S: Don't forget to hit that upvote if you think that this thread was helpful!